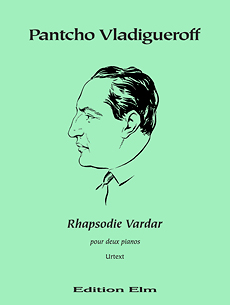 Pantcho Vladigueroff (1899 – 1978) is often called The Prime Master of Bulgarian Musical Culture. As a child he was a student of Dobri Hristov and later on was encouraged by the renowned French violinist and pedagogue Henri Marteau to undergo musical schooling in Europe. In 1912 he began to study piano and composition in Berlin with Heinrich Barth, Leonid Kreutzer, Paul Juon and Georg Schumann, and afterwards he worked in the German capital until 1932. He was forced to leave Germany and moved to his native country where he made music until the end of his life.
As early as in those years his works gain wide popularity. They are published by the Viennese publishing house Universal Edition and performed both in Europe and outside it almost upon their release. Vladigueroff is esteemed and acclaimed for his talent and originality of composition by a large number of his contemporaries: Richard Strauss, Arthur Nikisch, Bruno Walter, Karl Böhm, Fritz Reiner, Arthur Lowenstein, George Georgescu, Lovro von Matacic, Adriano Lualdi, Paul von Kenmpen, Carl von Garaguly, Sasha Popov, Max Reinhard, Gustav Havemann, Albert Einstein, Stefan Zweig, Hugo von Hofmannsthal, Serge Rachmaninov, Dmitri Shostakovich, Serge Prokofiev, Aram Khachaturian, George Enescu, Joseph Suk, Zoltán Kodály, Bella Bartok, Eugenia Uminska, Bronislaw Huberman, David Oistrah, Leonid Kogan, Dino Lipati, Arturo Benedetti Michelangeli, Sviatoslav Richter, Alexis Weissenberg, Herbert von Karajan, Evgeni Svetlanov, etc.
His works place Bulgaria among the countries with most prominent national musical schools at the beginning of 20th century. In his capacity of a professor in composition at the Musical Academy in Sofia, Pantcho Vladigueroff exerts a significant impact on the professional musical art in Bulgaria.
In 1968 the University of Vienna awards Vladigueroff the prestigious prize to the name of Gottfried von Herder. Here is what is written in the certificate presented to the composer by the university rector, prof. Franz Schwind:
The herewith awarded with this prize is to be credited with the great historical merit of having taken young Bulgarian artistic music outside its national borders, enriching and further developing it by way of its national melody with the compositional and technical means of European and world music and through his work as a composer, conductor and virtuoso being able to attain a universal acknowledgement far beyond the boundaries of his motherland. The artist Vladigueroff has worked in all musical genres of both the classic and romantic musical traditions imbuing them with a novel spirit rooted in the Slavic culture and creating masterpieces – primarily, in the symphonic and piano music spheres, the vitality and individuality of which are brilliant examples of the representative school of composers in his country.
V

ladi

gue

roff,

W

ladiguer

off

or Vladi

ge

r

ov

?
Pan
tch

o, Pan

tsch

o or Pan

ch

o?

Vladigueroff, who spoke French, German and Russian fluently, in different periods signed his works in different ways while not always being consistent nor exigent in terms of following an exact and uniform transliteration of his name. Sometimes, he himself changed the ending off of his name and wrote it Pantcho Vladiguerov or Pantscho Wladiguerov; he would also drop off the u after the g – Pantcho Vladigeroff or Pantscho Wladigeroff.

This transliterational problem has become even more serious nowadays due to the use of his name in various forms: Vladigerov, Vladigerof, Vladigeroff, Wladigerov, Wladigerof, Wladigeroff, Vladiguerof, Wladiguerof, Vladighérov, Vladighérof, Vladighéroff, Wladighérov, Wladighérof, Wladighéroff, Pancho, Pancio, Panxio, Pantsho, Pančo, Panco, together with the flippant pan4o and пан4о.

In the house-museum Pantcho Vladigueroff in Sofia there are preserved a number of small seals used by the artist for signing of his works together with the manual inscription of his name under the title of the respective piece of work: ПАНЧО ВЛАДИГЕРОВ in Bulgarian, PANTCHO VLADIGUEROFF in French and PANTSCHO WLADIGUEROFF in German. It is evident that the composer who was typically artistically negligent with orthography specified these particular forms of transliteration of his name when ordering the production of his personal seals.

The manuscripts preserved in Vladigueroff's house-museum in Sofia testify that towards the end of his life the composer named and signed his works in Bulgarian as well as, most frequently, in French. These preferences of Vladigueroff were also commented upon by his wife when she was still alive. Mrs. Elka Vladigueroff was not only his loyal companion during the last years of Pantcho Vladigueroff but also consistently archived, systematized and studied his work.
Drawing upon these facts and testimonies Edition Elm publishes the works for piano and for two pianos of Pantcho Vladigueroff writing his name according to the French transliteration and in compliance with the author's Urtext.