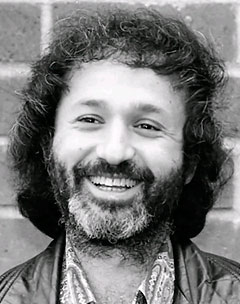 Milcho Leviev (1937–2019) was a Bulgarian composer, arranger, and jazz pianist. Born in Plovdiv, Bulgaria, to a family of Bulgarian Jews, he graduated from the Sofia Music Academy in 1960, having studied piano under Andrey Stoyanov and composition under Pantcho Vladigueroff.
From 1962 to 1966, Leviev served as Chief Conductor of the Bulgarian National Radio Big Band, where his innovative approach to fusing jazz and Bulgarian folk music resulted in numerous compositions for the band's repertory. It should be noted that Leviev worked in the style of ethno jazz long before the term was actually coined.
In 1965, Leviev founded the Sofia-based Jazz Focus '65 Quartet (flute, piano, bass, and drums). With it, Leviev toured all over Europe, winning prizes at prestigious jazz festivals like Montreux and Prague.
In 1970, the composer was forced to flee Bulgaria due to administrative restrictions imposed on the quartet by the Communist government. Leviev settled in Los Angeles and embarked on a world-renowned career as composer, arranger, and pianist. He collaborated with major jazz celebrities of the 1970s and 80s like Don Ellis, Billy Cobham, Al Jarreau, Airto Moreira, Art Pepper, Dave Holland, and Roy Haynes, to name but a few.
Leviev composed his String Quartet in 1959-1960 for his Master's graduation exam in Composition. This early work had a single premiere performance in 1960s.
In 2019, the score was rediscovered by the Philharmonica String Quartet, whose members took up the task of programming it. I think I managed to translate some of Hindemith's devices in the language of jazz and thus create an original work, writes the author for the program notes.
While attending one of their rehearsals, Leviev made certain minor amendments to the score. In the first edition of the String Quartet, these are marked in square brackets.
Milcho Leviev in an solo encore to a concert from January 1990.
Milcho Leviev as an arranger and band leader with his own composition Blues in 9 in a recording from 1965.
The String Quartet by Milcho Leviev in a concert recording from 2019.